Podcasts and other presentations
Media attention
Battenkill Fibers Named Newest Shave 'Em to Save 'Em Sponsor
The Livestock Conservancy announces Battenkill Fibers' sponsorship of their Shave 'Em to Save 'Em (SE2SE) program to raise awareness of heritage sheep breeds. Just in time for the 2021 shearing season, Battenkill Fibers is offering 20% off processing costs exclusively for official SE2SE fiber providers. Learn more >>>
An Engineer Turned Yarn-Maker Weaves Together the Threads of Humanity and Community,
"For fiber entrepreneur Mary Jeanne Packer, the symbiotic relationship between humans and the natural world, the individual and the larger community of people surrounding the one, has been obvious for decades."
Read more of the March 15, 2021 article by Kathleen Wilcox in New York Makers Magazine >>>
Battenkill Fibers Named 2015 Washington County Small Business of the Year
The mill was recognized at the Dec. 4, 2015 awards luncheon for creating jobs in the county, providing a service to the Upper Hudson Fibershed farmers and yarn companies, and for many contributions to the community including serving as a tourism destination and sponsor of the annual Fiber Festival.
Fiber facility a friend to farmers
Mary Jeanne Packer, owner of Battenkill Valley Fibers, intended to change the way farmers with fleeces do business in the region. What she didn't plan on was a path to her goal that was itself life-changing. "I'd seen fleeces stacked to the rafters in barns, so I knew there were farmers out there who would be interested in talking to me. Battenkill Fibers would mean a lot for farmers who had not had a market for selling their fleeces," Packer said. The full story appeared in May 2011 on the New York Farm Bureau website.
Battenkill Fibers provides local venue for processing fiber
Before the wholesale loss to overseas manufacturing, upstate New York had a thriving textile industry, with mills lining the region's rivers and tributaries. With the recent renewed interest in local goods and products, area farmers now have a local venue for processing fiber from shorn sheep, goats, llamas, and alpacas. "At one point, there were 13 fiber mills located between the Battenkill's mouth with the Hudson and East Greenwich," said Mary Jeanne Packer. Now, there is only one — Packer's recently opened Battenkill Fibers Carding and Spinning Mill, located at 2532 State Route 40 in the town of Greenwich. Read full story in Bennington (VT) Banner on-line.
Mary Jeanne Packer Finds Opportunity For Business In A Traditional Niche Industry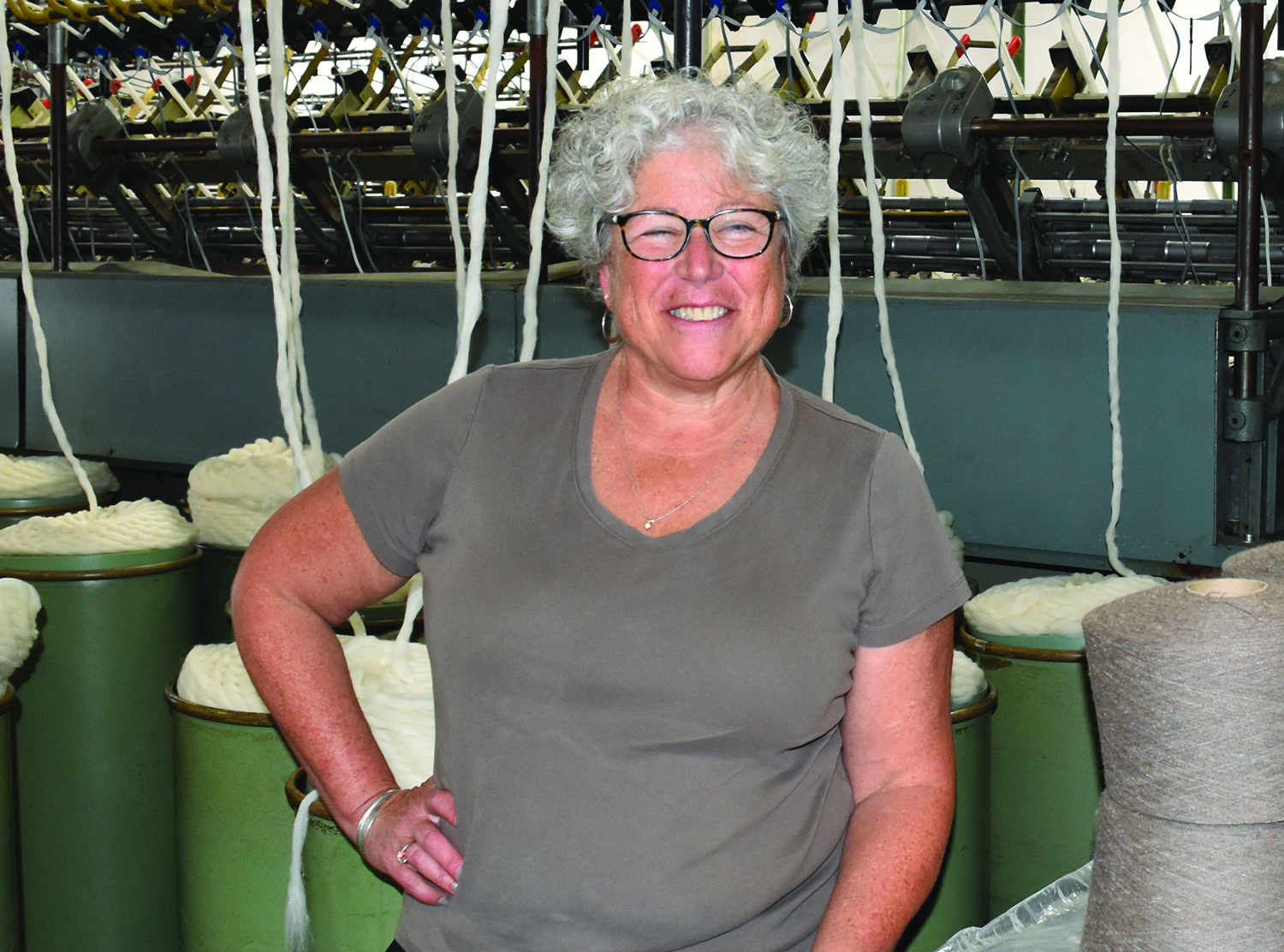 Most people don't put much thought into where yarn is produced, but Mary Jeanne Packer of Battenkill Fibers Carding and Spinning Mill hopes to change that. The mill, which operates out of Greenwich, processes wool and other fibers from farmers across nearly 500 miles, and serves as a supplier to yarn retailers across the country. Packer had aspirations of owning a yarn mill ever since she'd visited Green Mountain Spinnery in Putney, Vt., in 1982, but wasn't able to make it a reality until 2009… Read the full story at the Glens Falls Business Journal.
Battenkill Fibers hopes for growth in Greenwich
Mary Jeanne Packer knows her business is a study in what can go wrong with a startup venture. "It's everything you learn in business school playing out for you in Greenwich, N.Y.," Packer said this week, during a tour of Battenkill Fibers Carding and Spinning Mill on Route 29. The business employs 12 in the manufacture of a variety of wools for both farmers and the commercial yarn industry, and it is still struggling through the aftermath of a June 27, 2010, fire that destroyed much of its machinery and all of its wool stock… Read the full story at The Post Star.